December 2011 - Jan Faulkner

On 7th December we held our Christmas Open Evening. Our venue at Queen's Cross Church was warm and welcoming with seasonal music playing in the background and tables of festive fare awaiting our guests. Our Demonstrator for this special event was Jan Faulkner from Middlesbrough and her title was "It's Christmas Time".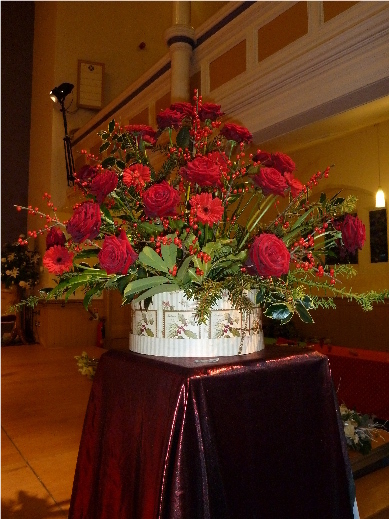 Jan's first arrangement was traditional in style. In a gold and white hatbox she arranged a wonderful mixture of foliage; yew, holly, golden yew, laurel and variegated fatsia. Into the foliage she placed stems of Ilex heavy with berries, beautiful "Grand Prix" roses and red mini gerberas. The completed arrangement would be perfect placed in a hall giving a lovely welcome to Christmas visitors.

In the next arrangement Jan showed us how simple it can be to produce a really stunning arrangement. Into each corner of a black perspex cube, tied with a ribbon to look like a present, Jan placed a different element in each corner; foliage in one, Ilex in another, cerise gerbera cut tall in another and cut short in the diagonal corner. In no time this design was complete, one which all of us could easily reproduce.

A large floor-standing open framework covered in silver-glittered twigs was used for Jan's next arrangement. Silver-glittered birch was repeated on top to give height to the design. Silver/gray foliage including eucalyptus was added together with white spider crysanths, Avalanche roses, white lilies and carnations. An abundance of gypsophila filled the gaps, and the overall arrangement was a sparkling delight.

Then Jan moved on to a silver wire container into which she had placed foil and tissue to intensify the colour. Blue spruce was used, grey side up, as the foliage along with fatsia and ivy. Height was added with silver ting ting. Purple baubles in different textures (shiny, satin and sparkly) were placed through the design and "Aqua" roses provided the finishing touch.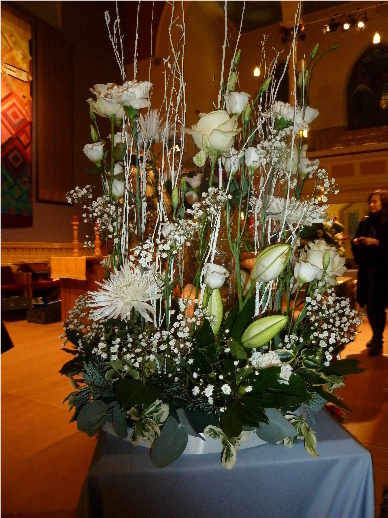 The next arrangement had a really wintry feel to it. The design was on a posy pad with a candle in a glass holder placed in the centre, glittered birch twigs gave height and seasonal holly and ivy added depth. A selection of white flowers; Anastasia chrysanthemums, lisianthus, carnations, gypsophila and lily in contrasting shapes and tones completed this winter wonderland.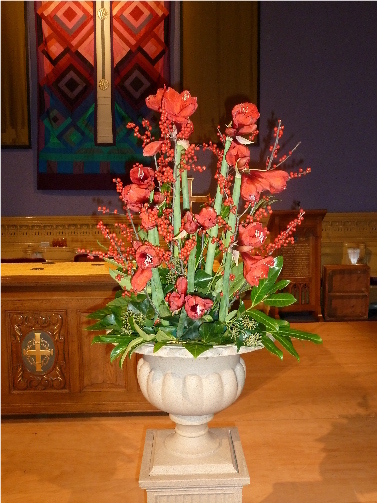 Jan then produced a large solid-looking urn which was filled with tree ivy and laurel. She then started to place red amaryllis into the arrangement, managing to place no less than 10 stems into the arrangement and still managed to find room for Ilex berries to give it a finishing touch.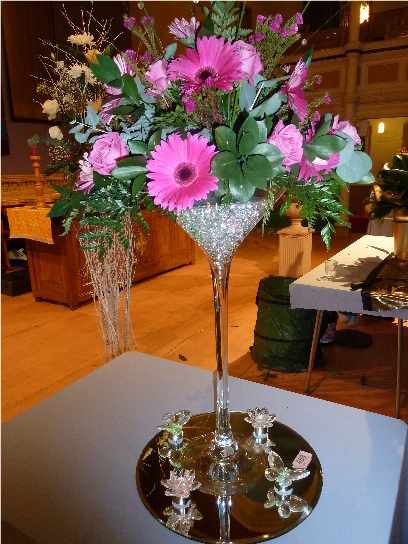 An oversized Martini glass was the next container; the bowl of the glass had been filled with gel and was lit with submersible lights giving a fresh sparkling effect. Leatherleaf, ruscus and eucalyptus were the chosen foliage which spilled over the edges. Cerise gerbera (Serena) and "Aqua" roses were placed into the foliage and the whole arrangement was finished off with crystal threaded steel grass, all placed on a circular mirror mat with delightful iiluminated LED ornaments.

Christmas wouldn't be Christmas without a tree and Jan produced the most amazing modern tree by manipulating aspidistra leaves into different shapes before placing into the arrangement, the leaves had earlier been given a light spray of gold down the centre which added to their interest. Avalanche roses were added along with glittered gold cones and the finishing touch was a gold star at the top of the tree.

The Open Evening was enjoyed by both members and their guests. The image alongside captures the raffle being drawn for prizes which included all Jan's stunning designs and other arrangements created by Committee members. Evelyn McAdam gave the vote of thanks and Ann Allan, our President, presented Ros Esslemont and Judith Carle with flowers and chocolates to thank them for the long years of service they have served on the Committee of the Aberdeen and County Floral Group.
We look forward to seeing you all at our first meeting of 2012 on 8th February.