October 2011 - Kate Kerr
October was our AGM, and once the business part of the evening was completed, we settled down to a demonstration by Kate Kerr from Dumfries entitled "Combinations". This was a new demonstration which Kate had put together following a conversation with her aunt when the subject of "combinations" – the knitted variety – came up. This wonderful word suggested all sorts of possibilities and we were treated to an evening of combinations of textures, of colours and of course, of flowers.

The first arrangement was in a pot which had been wrapped in paper, rather in the way you would wrap a hand-tie, which was held in place with short pieces of dogwood wired together. This was to be an all round coffee table arrangement and into the centre of it, to give height, pink gladioli were placed; a darker shade of sedum was added at intervals around this and the spaces filled with white spider chrysanthemums. "Handle" roses with pale edges to their petals reflected the colours already used and were placed throughout the design. Variegated geranium foliage, house leeks and bunches of dogwood on sticks all contributed to the finished design.

Kate's second arrangement of the evening was set on top of an old lantern in the middle of a wire cage. Bergenia, ivy and Bandana leaves provided a line across the top of the container, dendrobium orchids and longiflora lilies contrasted with the green foliage and euonymus "Silver Queen" filled any gaps. White lisianthus provided the finishing touch to this design.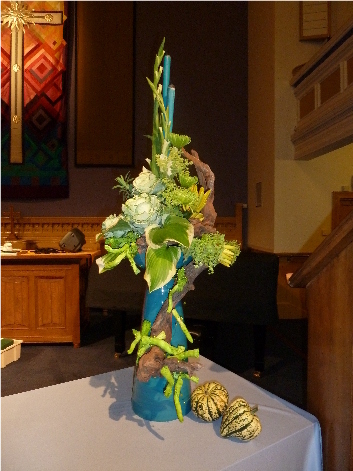 For her next arrangement Kate produced a stunning tall container in the most gorgeous turquoise colour, not, as she said "a colour you find many flowers in", a piece of driftwood curved over the edge and giving height in the design were what looked like two tall pieces of some exotic plant but turned out to be citronella candles whose colour exactly matched the container. Cream, green and white were the colours used in the flowers with gladioli at the centre, ornamental cabbage, hosta "Buttercream", alchemilla mollus and blue tinged euphorbia foliage. A line of green "Anastasia" chrysanthemum came through the design and a string of green pecci roots wired together tumbled over the edge. A stunning modern arrangement.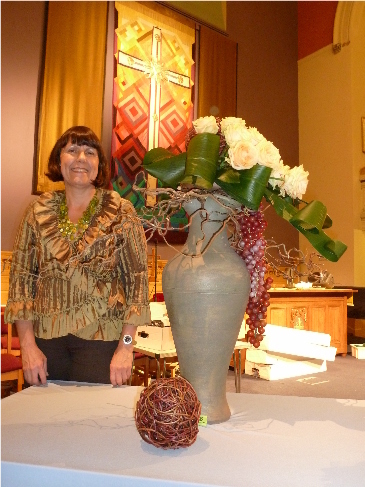 Another tall stand appeared, this time a pale stone colour with contorted hazel placed horizontally across the top and grapes pouring down the side. Kate pinned a series of aspidistra leaves manipulated in different fashions across the oasis and two large spheres of red dogwood added interest to the design. Rosa "Peach Avalance", an absolutely stunning rose, was arranged in a block of colour and any gaps filled with skimmia, the red edge of which brought the colours all together.

A long pink planter appeared next filled with all the foliage currently available in the garden, lilac and dark red asters filled the back of the arrangement and purple gladioli gave the appearance of a fence across the design. Pink lilies, germinis and a two tone carnation filled the arrangement giving a lovely impression of a late summer garden filled with flowers.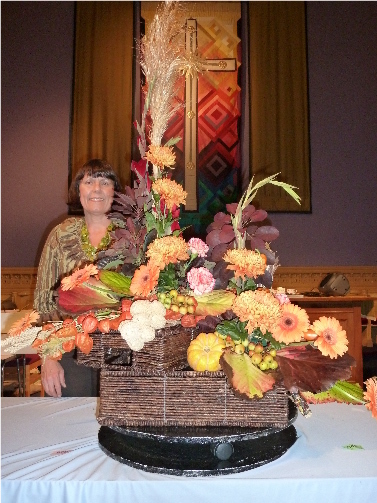 Finally, Kate produced a wonderful arrangement in rich autumn colours. Bergenia leaves, their colours varying from dark red through yellows to green, cotinus, chinese lantern, colourful dried corn and grasses provided a backdrop for bronze chrysanthemum, orange gerbera and red gladioli. Small orange peppers and bunched mini-loofas provided the finishing touches.
It was a most enjoyable demonstration and Kate's warm personality, sense of humour and fun had us all laughing throughout. We hope she will return to our Aberdeen club in the future. Just one word of warning though, don't choose the staging area next to Kate at any of the NAFAS competitions – you never know what might happen………………..