May 2011 - Audrey Buchan
The month of May saw a change of venue for us as Queen's Cross was holding its bi-annual book sale, so we moved to St Mary's in King Street for the evening and what a lovely venue it was - a 1930's building with the clean lines of that period and flooded with light from its beautiful windows. Not only did we have a change of venue but also a change of demonstrator. Isobel Greenaway was unwell and had to cancel at short notice. After some frantic activity, we were lucky enough to find Audrey Buchan from Montrose who was able to come to Aberdeen as our Demonstrator for May.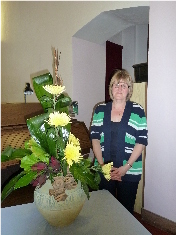 Audrey's title was "Mixed Blessings" and she started the evening with a cream pot; from the rim of this she had fixed bark threaded onto wire which gave a lovely contrast of texture with the smoothness of the container. Tall bunches of twigs were placed vertically into the arrangement along with fatsia, bergenia and rolled aspidistra leaves, leucadendron "Safari Sunset" added a different colour to the foliage and a curving line of yellow Anastasia chrysanthemum completed this eye catching design.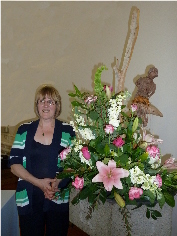 A lovely piece of driftwood mounted on a plinth was the background for the next arrangement. Sitting on the wood was a little "Paverpol" fisherman. Audrey did explain that she had attended a class to learn how to make "Paverpol" fairies but as hers had turned out very masculine looking she had turned it into the fisherman. Against this background an asymmetrical triangle was arranged. The foliage was eucalyptus, skimmia and ruscus. Some Solomon's Seal brought in by one of our members gave a lovely curved line and moluccella was also included. Into this the most beautiful dark lily was added along with two shades of pink roses and some cream stock which added a lovely scent to the arrangement. (This is the arrangement pictured above).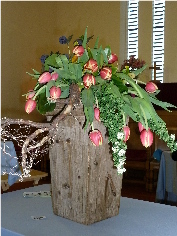 The third arrangement of the evening was a more contemporary design. Using a tall square pot in which a piece of root had been placed at a horizontal angle, Audrey created a low flowing design of tulips, and spirea. At the back of the design she used an ornamental cabbage and some peppers to add visual weight and balance, then a few dark leaved hellebore arranged through the top of the arrangement completed it.
An upcoming trip to a lighthouse inspired the vertical hand-tie which was demonstrated for us next. Audrey explained that we might find this style easier to do rather than the traditional method as it did not become too difficult to handle. Starting with some steel grass at the centre, cream roses, gerbera, alstromeria and gyp were bound together. A collar of wired fatsia leaves completed the arrangement which was placed into a tall glass vase containing some blue glass beads, which completed the illusion of a lighthouse.
A low, shallow basket provided the container for the next arrangement. Pink dyed birch twigs in the centre gave a lovely lightness above groundwork of ruscus, huchera, acuba and galax leaves. Liatris was placed amongst the birch and the spherical heads of allium placed low into the arrangement, tulips and a dark lily were added and lilac statice gave a lift to this lovely design.
The final arrangement of the evening was in a gorgeous urn. A pleat of weird wool in contrasting colours added interest around the top of the urn and then palm leaves were added, fatsia gave a contrast in shape and pleated aspidistra leaves another (Audrey had fixed the aspidistra with small twists of lime green beaded wire which was a lovely touch against the dark green leaf) . Cream Lilies were taken down through one side of the foliage and "very green" roses down the other, the addition of anthuriums completed this stunning arrangement.
Audrey's arrangements were lovely and while she worked she kept us entertained with stories about herself and her family. Her enthusiasm and talent for flower arranging shone through and we were delighted that she had managed to fill the gap as our Demonstrator for the evening. We wish Audrey well at "Gardening Scotland" where she is doing the SAFAS arrangement and hope to welcome her back to the Club in the near future.