March 2012 - Gill Garrow
In March we welcomed Gill Garrow from Elgin. The title of her demonstration was "Touch Wood" and throughout the evening she demonstrated ways of using wood in our designs at a time of year when foliage in our gardens is in short supply.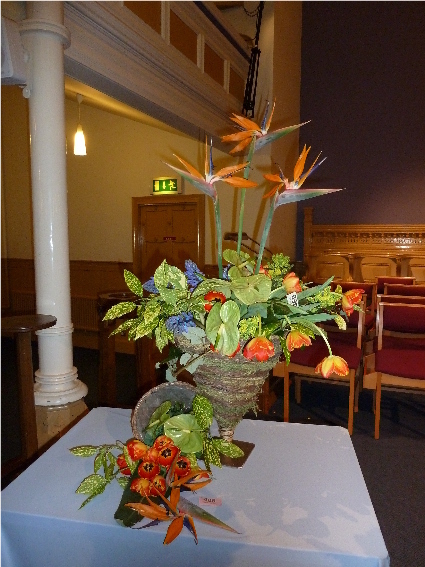 Gill started with an arrangement in what had been a hanging basket made from willow and moss but had been transformed into a stylish container by the local blacksmith. Rubus tricolour was looped round the edge of the container to soften it then spotted laurel and mahonia were added. Strelitzia gave height and variegated tulips arched over the side of the container, blue hyacinth were added to add fragrance and to pick up the grey shade in the strelitzia, finally anthurium "Medori" gave an exotic touch to the arrangement.

Spring arrived next with a lovely white painted, shuttered window and window box. Contorted hazel was placed over the Oasis® twigs, pussy willow, liatris, ornithogalum and iris were placed vertically against the "window". Stunning cerise ranunculus, pink tulips and hyacinth completed the design and the finished effect was delightful; like looking into a cottage garden in the Spring.

A change of style now as Gill's next arrangement was a low coffee table design, again she used twigs as a starting point to cover the Oasis®. These were interspersed with eucalyptus and liatris placed at each end. Rosa "Coffee Break", a light orange rose with a purple tinge, was stacked at each end and orange gerbera off-centre at the top of the design, between the gerbera eryngium added a complimentary texture and shade to the arrangement.
A five minute arrangement next as Gill showed us a small wire wreath ring which had been transformed with ribbon, twigs, lichen and beads in a technique which had been demonstrated at "Northern Lights" Contemporary Flower Club. The construction which could be used time and again was placed on top of a gold pot and Rosa "Musette" put through the centre of the ring into the pot. This was the second of three stunning roses Gill used during her demonstration which were new varieties to most Club members.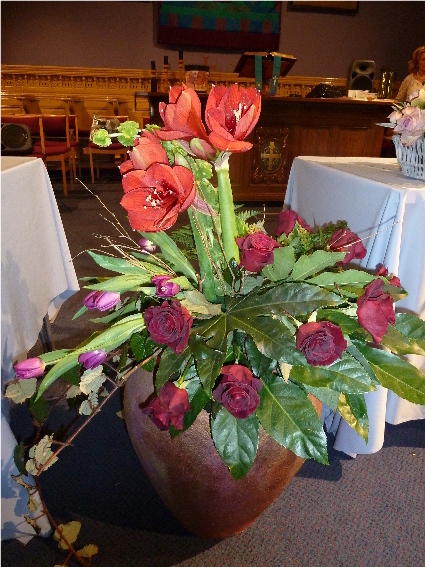 A large Ali Baba style pot was next, rubus trailed over the edge, leatherleaf and other large leaves added contrast while mollucella gave height. Deep red tulips fell through one side of the design and Rosa "Black Baccara" at the other, a line of amaryllis "Ferrari" and some gold birch twigs completed the design.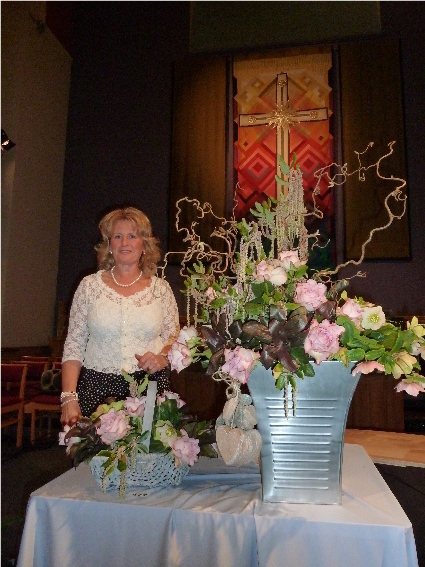 Finally, Gill produced a large galvanised container into which she placed some contorted willow, garrya eliptica, bronze dracaena and hellebore leaves (a good large leaf from the garden at a time of year when other foliage is in short supply); seneccio added another silvery foliage. Purple hellebore and the beautiful Rosa "Memory Lane" were placed into the arrangement; some hydrangea heads picked up on these colours. The silvery silk tassels for the garrya gave an immense amount of movement to this beautiful design which was a fitting finale to the evening.
Gill passed her Area Demonstrators test in 2009 - this was her first visit to our Club and after a wonderful evening of flowers and chat we certainly hope that it won't be her last!