November 2012 - Lynda Fraser
Our November demonstration was held in St Mary's Church in King Street. Our Demonstrator was Lynda Fraser from Carlisle who is no stranger to the Aberdeen Evening Club, having been our guest on three previous occasions. Lynda's title for the evening was "Spellbound".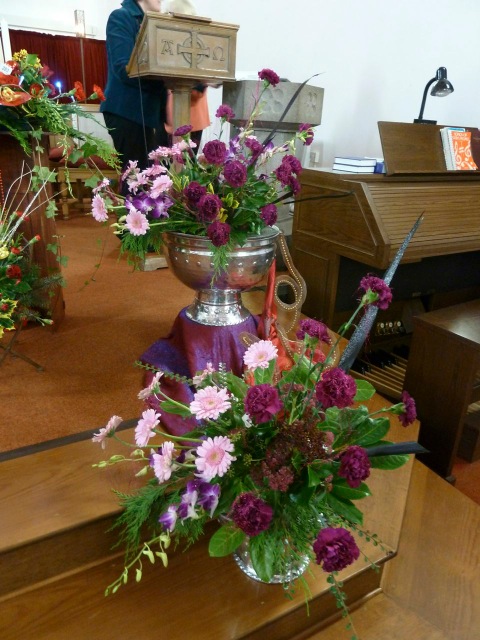 The first arrangement of the evening was inspired by Gertrude Lawrence and her role in bringing the "Anna and the King" to the stage. The foliage started with dried phormium and built up to include laurel, cotoneaster horizontalis and conifer. Pink gerbera, a dark carnation and a scattering of dendrobium orchids spread through the design and a scattering of angel hair complemented it. The completed arrangement was placed on top of the most enormous polished metal tureen and a slightly smaller version of the arrangement was produced to match and harmonise it.
From the Far East we went West and a "European" style arrangement featuring birch twigs and spotted laurel was formed in a tray supported on a wrought iron stand simulating a fairground carousel. Liatris was added for height and contrasted with orange rosebuds and yellow "Anastasia" chrysanthemums. The finishing touch was the inclusion of some cream ornamental cabbage that looks fabulous at this time of year.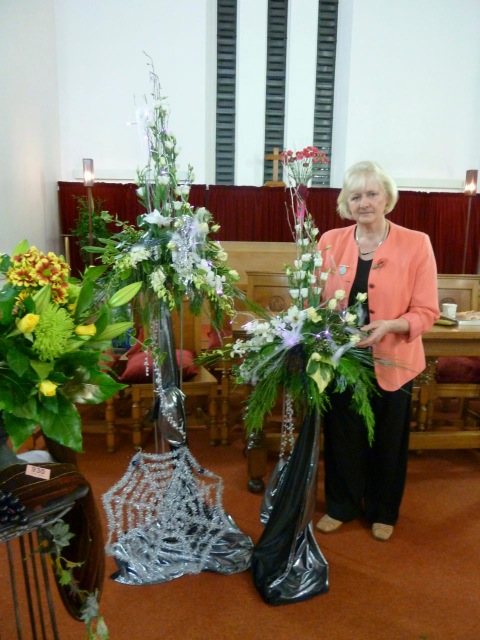 The next arrangement was an airy all round design on a tall silver stand. Birch, laurel, broom and conifer were the foliage and lisianthus; cream roses and white dendrobium orchids combined to give a wintry feel to this elegant design. A second arrangement was placed alongside, and a glittering silver web was positioned at the base – can you spot the spider?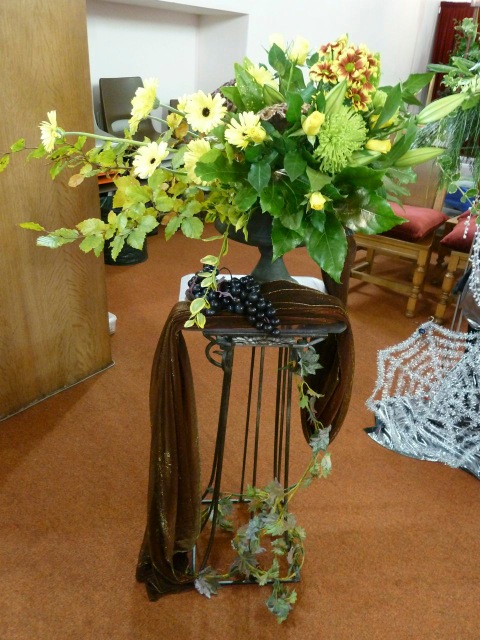 Lynda then produces a beautifully proportioned urn as the container for her next design. Fatsia leaves at one side contrasted with the visually lighter weight foliage at the other. Anastasia chrysanthemum, lily, lemon rosebuds and germini combined together produced a lovely fresh arrangement.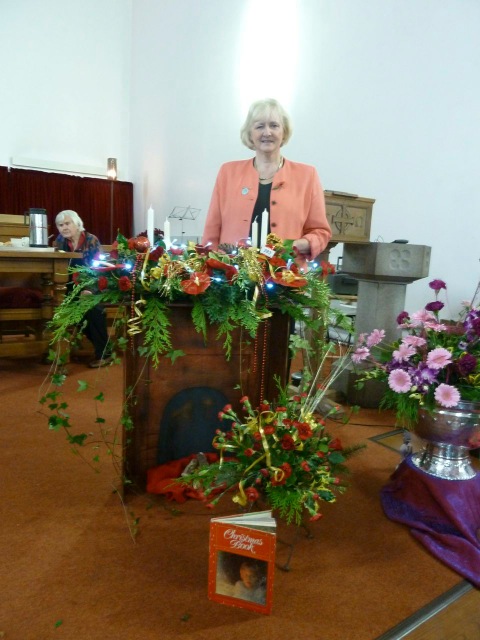 With Christmas fast approaching, Lynda's final design put us in the mood to start thinking about decorating our homes. Using seasonal foliage and a variety of flowers in shades of red, she produced a warm welcoming arrangement, which was placed over a mantelpiece, with twinkling LED lights and candles interspersed throughout the design. A complimentary arrangement was placed on the "hearth" and a Christmas Book in front set the scene to brighten up any home at this time of year.
Throughout the evening Lynda, assisted by her Mum, the "Sound Technician", used well-chosen pieces of music to complement her arrangements. An old piece of fairground organ music, songs from the shows, Christmas stories and comic poetry all combined to produce a fun evening of "friendship and flowers" and indeed had us "Spellbound"!