September 2011 - Sandra Halkett
At our first meeting after the summer break we welcomed Sandra Halkett from Elgin to the club. Sandra's title was "Seasonal Delights" and her first arrangement was a contemporary take on autumn. Into a low bowl she placed a column of reeds. Pinned to the sides were trails of willow, "cherry brandy" roses were placed around the column at different heights and these were interspersed with a few stems of wheat, rhubus was trailed around the base to conceal the oasis and rosa rugosa hips inserted to give a dash of colour amongst it, a charming autumn arrangement which could easily be reproduced at home.


Sandra's second arrangement continued in the contemporary theme using pairs of bamboo sticks which had transparent material connecting them; the material had been decorated with pale green sisal and sequins which gave it slight glitter and added to the translucent appearance. Pale green carnations were inserted at varying heights and the base of the arrangement filled with foliage, yellow chrysanthemum and some more touches of the sisal. The end result was a light and airy arrangement with a Japanese feel to it which drew your eye through the layers of the design.


The evening continued with a low arrangement inspired by the Moray coast where Sandra lives - each component was chosen to represent the varied landscape of the area. Conifer, skimmia, sedum and eryngium gave differing textures and shapes, pink asters, cream alstroemeria and finally an orchid brought colour to the arrangement and a final piece of silvered willow gave it movement.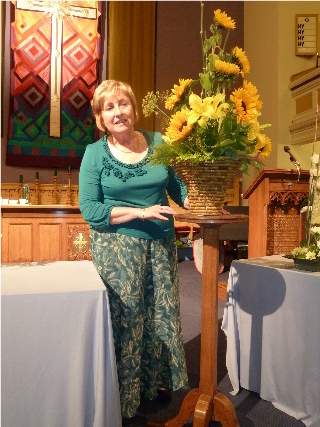 The next arrangement brought a touch of late summer to the evening with the use of sunflowers in a tall wooden container. The choice of rhiengold conifer, variegated bergenia, skimmia and choisia both contrasted with and reflected the yellow of the sunflowers; the use of fennel seedheads gave the appearance of mistiness to the overall design.
An arrangement in reds and orange was next; cotoneaster horizontalis was placed at one side of a lovely ceramic pot and balanced at the other side with some beautiful red gladioli. The centre of the design was filled with boston ivy, red carnations threaded their way through the cotoneaster and the whole was completed with orange gerbera and hypericum berries.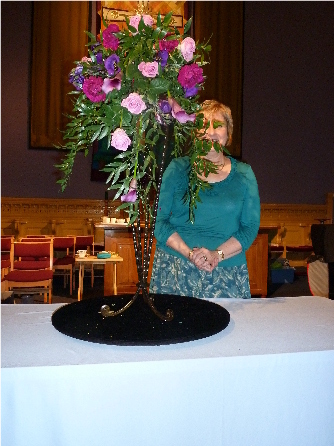 The final arrangement of the evening was a tribute to the designer Bill Gibb who was brought up in the Moray area. A tall elegant iron work container provided the ideal support for a "train" of floral material. Ruscus and hellebore provided the background to an arrangement of pinkish purple calla, aqua roses and luscious dark purple carnations. Lisianthus added another shape to the flowers and it was finished with sequined wire which wound its way through the train giving a subtle sparkle to the completed design, a fitting tribute to the talents of Bill Gibb.