June 2011 - Marie Rutherford
In June, our demonstrator for the evening was Marie Rutherford from Falkirk, a well known participant in the floral world being a former Chairperson of JDE&S for SAFAS and a keen competitor at shows all over the country. Her title for the evening was "Not Tied".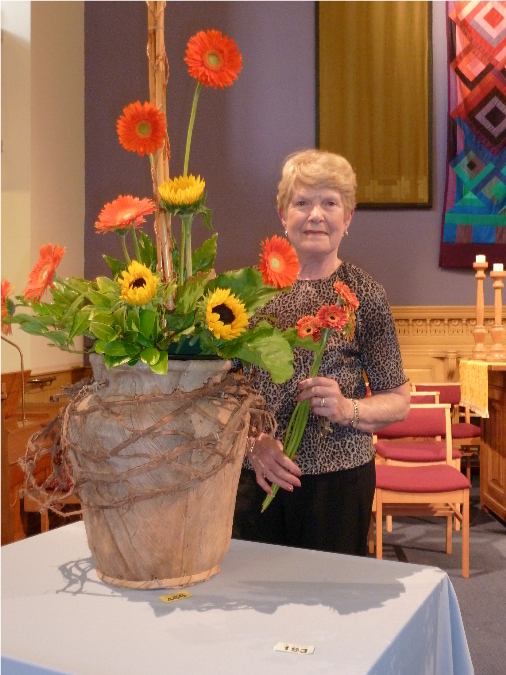 In her first arrangement "staked and netted", a bunch of canes was placed in the centre of the floral foam which had been setatop a pale coloured container that had been enhanced with a piece of course net around the opening. Around the canes, groupings of fatsia, bergenia and skimmia were placed and into this a stunning orange gerbera was positioned. Sunflowers were then taken through the design and in no time at all, a lovely sunny arrangement was complete.
The second design of the evening was an all round arrangement which would look as good on a low coffee table as it did on the stand on which Marie arranged it. A groundwork of mixed foliage including choisia, ivy and leather leaf was arranged in the flat container, agapanthas were grouped at different heights in the middle of the dish and yellow freesia added which really lifted the colours in the design. Some paler Alstromeria then added another shape and the arrangement was completed with a swirl of lightweight voiles in blue and gold trailing from the stand, draped perhaps, but definitely "not tied".
A magnificent slice of wood mounted on a plinth was the stand for the next arrangement which consisted of two horizontal placements. The floral foam was "greened up" with leather leaf and pieris; some lovely lime green "Midori" anthuriums were placed and complemented by cerise germini. Long sprays of Dendrobium orchids took the colour through to each end of the arrangement and some green "Anastasia" chrysanthemum added the finishing touch.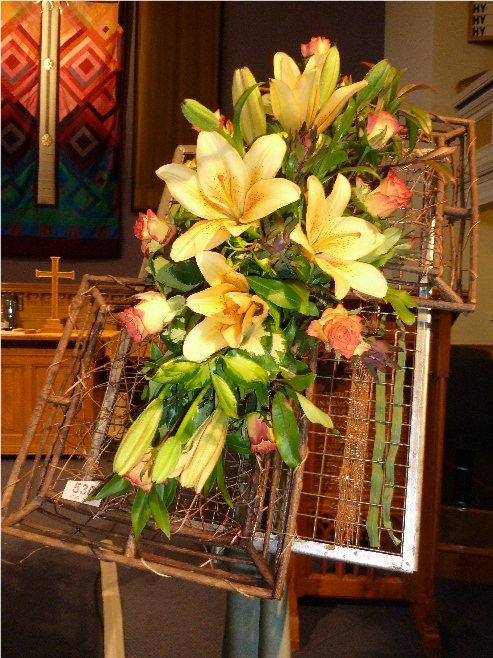 Marie's next design was a more traditional "spray" style but arranged against a set of overlapping frames in different sizes and materials (natural and metal). Amongst other things, she included spray leucodendron, orange roses and a creamy / yellow lily and the end result was stunning.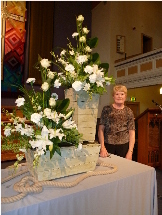 The final design of the evening was arranged in a square-sided trough with a matching tall container. Maria rolled Aspidistra leaves into tubes and threaded white roses through the middle giving a unique look to the finished piece. She also revealed one or two other ways in which we could manipulate aspidistra and cut palms to use in our own arrangements. Hosta, ferns and palm produced a background for a mass of white Lilies, Carnations, and Orchids, creating a beautiful arrangement (pictured) which was balanced with a secondary, smaller version of the design, and completed with a thick, knotted rope laid round the base.
Throughout the evening, Marie delighted the audience with amusing stories, tips and hints which were thoroughly appreciated, giving a lovely finale to our final meeting before the summer break.