February 2011 - Irene McDonald
February was the first meeting of the Aberdeen and County Floral Group for 2011 and we were delighted to welcome Irene McDonald from Fraserburgh to our Club. The title of her demonstration was "People and Places".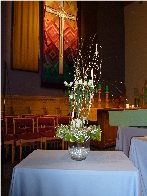 Irene was brought up in Tarland and for her first arrangement she depicted her very early memories of the local village show where she was encouraged to enter a "jam jar of wild flowers". Her "jam jar" was now an elegant glass bowl, the bottom of which was filled with clear "water pearls" lit with tealights. The mechanics on top of the bowl were concealed by a ring of skimmia interspersed with gypsophila which gave it a lightness of appearance. In the centre of the ring tall bleached twigs were placed and these were then interspersed with white roses. The arrangement was completed with white lily buds at the base and the "jam jar of flowers" with a contemporary twist was a lovely start to the evening.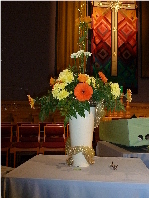 The second arrangement of the evening was "New York". A towering arrangement of gold twigs atop a tall cream container with fern at the base formed the building blocks for Irene's depiction of the Empire State Building. Beautiful tall orangy gold roses were inserted high into the design, white carnations were set lower down and the "observation deck" was depicted by yellow chrysanthemums and orange gerbera set amongst the ferns. Whilst completing the arrangement Irene entertained us with the story of her trip to New York when she surprised her daughter who was singing with a choir at Carnegie Hall and had not expected to see her there.

The demonstration was entitled "People" as well as "Places" and the next arrangement was in celebration of a new baby boy, her first grandchild. This was a more traditional arrangement with a mixed foliage background of laurel, cypresses and elaeagnus. Blue statice was spread through the design to which was added a fluffy limonium and a dark blue larkspur which gave different shapes and shades of blue to the design, to complete the arrangement a couple of white roses were added at the end.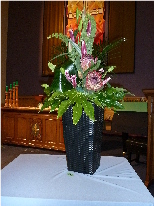 A picnic in the Bahamas inspired the next arrangement and a lush arrangement of fatsia, palm and aspidistra leaves were set into a tall, black wicker container. Bells of Ireland added height and movement and large pink protea gave the arrangement an exotic feel. The design was completed with beautiful stargazer lilies.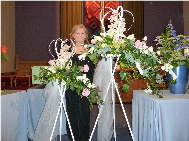 Irene's final arrangement of the evening was of an event still to come: this year's "Royal Wedding". On a white tripod pedestal draped with a piece of white tulle she placed an elegant arrangement of trailing foliage; ivy, ruscus and eucalyptus. Through this was threaded white lisianthus, beautiful white calas, white lilies and pink roses. The arrangement was topped off with a crown under which was placed a beautiful spray of white orchid with touches of pink which complemented the pink and white in the rest of the design. This was accompanied by a second smaller placement in the same design perhaps "one for William & one for Kate".